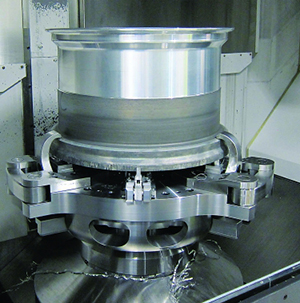 Workholding: Building Chucks to Hold Wheels - Practical Machinist Article
Unless you're stuck on the side of the road with a flat, you probably don't give much thought to the tires on your car or the wheels on which they're mounted. Yet automotive wheels are complex components. They require specially designed tooling and equipment, as well as extensive technical knowledge, to manufacture.
One requirement of precision wheel manufacturing is secure, accurate workholding. But Jay Duerr, president of LMC Workholding Inc., Logansport, Ind., said it goes much further than that. "The biggest requirement in this industry is good customer support."
Duerr's customers range from a small manufacturing facility that produces a couple of million wheels per year to a large-volume customer that rolls around 12 million wheels annually out of a single plant. "If they call because they just broke a chuck," said Duerr of the latter, "you'd better have a new one ready for them in a few hours. You simply can't shut down a production line running volumes like this." To read the rest of the article click the link below.