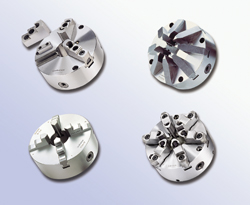 LMC Workholding offers Chandox brand steel body and cast iron manual chucks for various applications. Also unique to LMC is the NT and TNT series, these manual chucks feature hard jaws and soft jaws which are interchangeable with those of power chucks and can be adjusted to increase the gripping range.
Chandox steel body chucks enhance safety for high speed machining and long life. The NT and TNT versions can be used as a "forming plate" for machining soft jaws of power chucks also. Other features include a chuck handle which operates smoothly and easily and an optional mounting plate designed for your specific machine. The steel body chucks are available in 2-, 3-, 4- and 6-jaw configurations with or without adjusting feature in chucks body and in 1 or 2 piece jaws, with sizes up to 15 inch in diameter.
Cast iron Chandox manual chucks are also available for lower speed application and more economical pricing, but with the same manufacturing quality. Cast Iron chucks are also offered in 3-, 4-, 6- and 8-jaw designs with 1 and 2 piece master jaw configuration and sizes up to 16 inch in diameter.
LMC Workholding engineers and manufactures high quality chucks and standard and special workholding equipment, including international style power chucks and cylinders, wheel chucks, high volume machining power chucks, Atling hydraulic steady rests, Richter manual steady rests, Stiefelmayer specialty clamping tools, Chandox brand chucks and cylinders and T de G large chucks.
Contact LMC Workholding, P.O. Box 7006, Logansport, IN 46947-7006, Telephone 574-735-0225, Fax 574-722-6559.