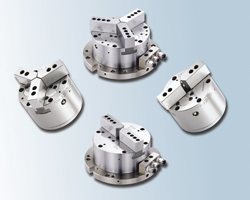 Chandox Super Precision and Standard Air Chucks
LMC Workholding offers Chandox 1 micron super precision air chucks and standard precision air chucks for grinding, rotary tables, and turning applications. These air chucks are available in several models with gripping force ranging from 3.1Kn (697 lb-f) to 21.6 Kn (4855 lb-f). The chucks are equipped with pre-machined tapped holes for fixing jigs or parts locators, eliminating additional machining. A pre-machined lubrication path can connect to the auto-lubrication unit of the machine tool to lubricate the chuck automatically. Other features include a built-in cylinder, precise soft jaw positioning and high gripping precision for better quality and efficiency.
LMC Workholding engineers and manufactures high quality chucks and standard and special workholding equipment, including international style power chucks and cylinders, wheel chucks, high volume machining power chucks, Atling hydraulic steady rests, Richter manual steady rests, Stiefelmayer specialty clamping tools, Chandox brand chucks and cylinders and T de G large chucks.
Contact LMC Workholding, P.O. Box 7006, Logansport, IN 46947-7006, Telephone 574-735-0225, Fax 574-722-6559.