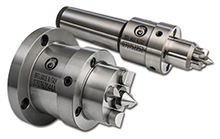 Face Driver Trade-in Opportunity with LMC Workholding
LMC Workholding is now offering a face driver trade-in opportunity for a limited time. Contact LMC to learn the worth of a current face driver including Neidlein, Riten, Madison, Rohm and more. During this limited time trade-in, LMC is also offering a 45-day free trial of the patented FRB face drivers.
FRB face drivers feature a patented mechanical compensating system, which is highly adjustable and reliable in the most difficult conditions. These face drivers also provide excellent performance with longer pin life, deeper cuts and 20% production increase.
Founded in 1916, LMC Workholding offers engineering, manufacturing and a full range of products including high quality chucks and cylinders along with special workholding devices, including aluminum wheel chucks, high volume machining power chucks and fixtures, standard and special hydraulic steady rests, special application and large cast type manual steady rests, and Chandox brand chucks and cylinders. LMC also offers a line of patented face drivers and centers.
Contact LMC Workholding, P.O. Box 7006, Logansport, IN 46947-7006, Telephone 574-735-0225, Fax 574-722-6559