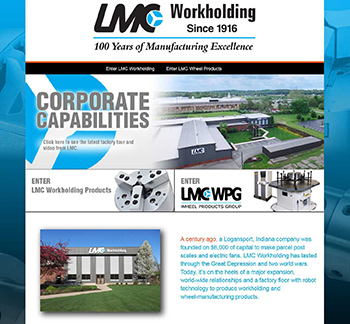 New Corporate Video from LMC Workholding
A new corporate video is available from LMC Workholding, showcasing the quality products, services and engineering solutions that LMC has provided to the workholding industry since 1916. LMC Workholding is the present entity of the Logansport Machine Company, which has built a reputation for engineering and manufacturing power chucks, cylinders and special workholding products.
The video offers LMC's history, from its 1916 beginning as a manufacturer of parcel post scales and electric fans to its present line of workholding products. Today, LMC offers power chucks and cylinders, face drivers and live centers, manual chucks, hydraulic and manual steady rests, stationary workholding for machining centers, large chucks and pallet systems, wheel chucks, special application workholding, oil field products and Numtec and MAKRA aluminum wheel testing and manufacturing equipment.
Also highlighted in the video are LMC's recent facility expansions, machinery additions and global partnerships in Austria, Sweden, Germany, Italy, Taiwan and China. Watch the new video on LMC's website.
Contact LMC Workholding, P.O. Box 7006, Logansport, IN 46947-7006, Telephone 574-735-0225, Fax 574-722-6559.