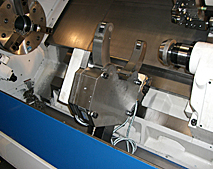 New Large Steady Rests from LMC Workholding
LMC Workholding introduces three new, large Atling steady rests as part of its line of workholding products. The large models include the new LZ90-360, LZ150-420 and LZ110-500. The LZ90-360 features a clamping range with a minimum of 90 mm and a maximum 360 mm (3.54 in to 14.17 in). The LZ150-420 offers a clamping range from 150 mm to 420 mm (5.91 in to 16.53 in) and the LZ110-500 has a range of 110 mm to 500 mm (4.33 in to 19.69 in).
Atling self-centering steady rests maintain the integrity of shaft or bar workpieces that tend to bend or deflect under unstable cutting loads. Designed to fit virtually any CNC or conventional lathe, the steady rests deliver a large gripping force in a compact housing and fit even where space conditions are extremely limited.
The steady rests feature three roller levers with patented, precisely machined curved surfaces that arc towards the center of the workpiece at a 120 degree angle. This patented roller design reduces the size of the housing, which allows LMC to fit a larger steady rest into a smaller footprint than traditional steady rests. The unique design also provides precise contact between the guide rollers and the machined angle of the levers, providing consistent, uniform clamping force.
Other features, like manual or automatic lubrication and an air barrier for extending the life of the inner parts, are also available.
The entire LMC Workholding line includes...
LMC power chucks, cylinders and wheel chucks; Atling Steady Rests; Face drivers, as well as live and dead centers.
Contact LMC Workholding, P.O. Box 7006, Logansport, IN 46947-7006, Telephone 574-735-0225, Fax 574-722-6559.