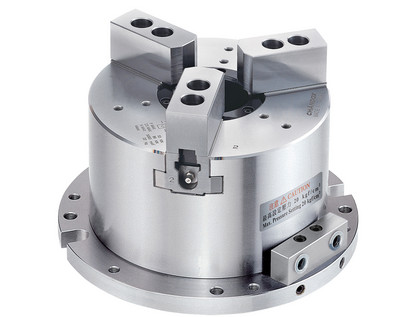 MB - Large Through Hole Power Chuck Fixtures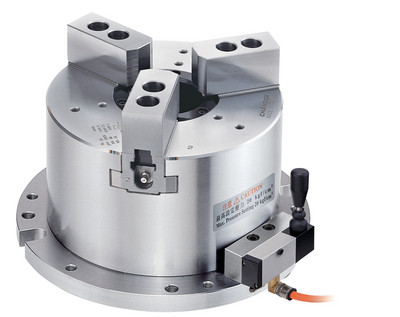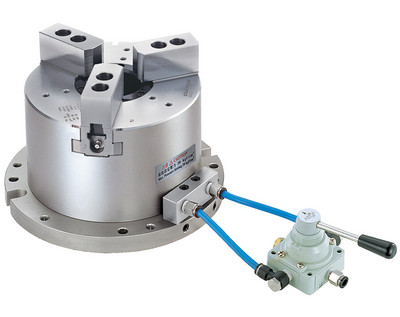 With built-in type cylinder, it is ideal for machining applications on working table.
Rust-proof for Pneumatic Cylinder:Inside wall of cylinder being rustproof treated ;cyclinder can work under wet or high moisture circumstances without rusty or serized trouble.
Dusts-proof and Waterproof: Dust-proof and Waterproof structure prevents work-chip and coolant water form entering into inside of chuck cylinder to maintain its accuracy and lead to longer service life.
Benefit of Built-in Cylinder: The cylinder is connected to chunk itself directly for obtaining better stability, less space, and higher machining efficiency.
Unit: mm
Spec>
Model
A
B
C
D
E
F
G
H
I
J
K
L
M
O
P
MB-06
228
173
45
16
118
158
40
73
20
12
31
18
4-Ø11
(PCDØ202)
M10 x 1.5P
3-M8 x 1.25P
(PCDØ134)
MB-08
270
215
52
17
130
172.5
42
95
25
14
35
18
4-Ø11
(PCDØ243)
M10 x 1.5P
3-M10 x 1.5P
(PCDØ150)
MB-10
315
256
75
19
146
190.5
46
110
30
16
40
18
4-Ø13
(PCDØ285)
M12 x 1.75P
3-M12 x 1.75P
(PCDØ182)
Spec>
Model
Q
Piston Area cm2
Plunger Stroke mm
Jaw Stroke Diameter
Max Gripping Force kgf
Max Gripping Force (KN)
Max Hydr
Pressure kgf/cm2
Gripping Range
Gripping Force
At Air Pressure
7kgf/cm2 (0.7Mpa)
kgf
Gripping Force
At Air Pressure
7kgf/cm2 (0.7Mpa)
(KN)
MB-06
--
97
12
5.5
5040
-49.4
20 (2.0)
Ø20~Ø173
2000
-19.6
MB-08
3-M10×1.5P
(PCDØ186)
156
16
7.4
8100
-79.4
20 (2.0)
Ø25~Ø215
3300
-32.3
MB-10
3-M12×1.75P
(PCDØ232)
226
19
8.8
12330
-120.9
21 (2.1)
Ø37~Ø256
4800
-47