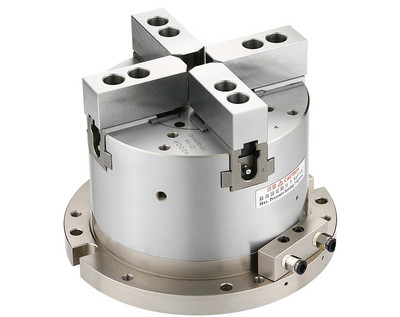 MA - 2+2 Self-Centering Air Chuck Fixture
2 actuating axes self-centering solid air chuck fixtures is great for machining center. Two pairs of jaws clamp one after another to assure a workpiece to be locked completely.
Rust-proof for Pneumatic Cylinder: Inside wall of cylinder being rustproof treated; cylinder can work under wet or high moisture circumstances without rusty or seized trouble.
Dusts-proof and Waterproof: Dust-proof and Waterproof structure prevents work-chips and coolant water from entering into inside of chuck cylinder to maintain its accuracy and lead to longer service life.
4-jaw Clamping and Self-centering: 4-jaw clamping are steadier for machining. Two pairs of jaws are moved independently to assure complete lock and self-centering.

Spec>
Model

A
B
D
E
F
G
H
I
J
MA-06
224
175
20
130
170
40
73
20
12
MA-08
265
210
22
154
196
42
95
25
14
MA-10
315
250
25
176
222
46
110
30
16
Spec>

Model
K
L
M
N
O
P
Q
A Piston
Area (cm2)
push side
A Piston
Area (cm2)
pull side
MA-06
31
18
Ø11
Ø202
M10×1.5P
(PCDØ202)
4- M8×1.25P
(PCDØ124)
4- M8×1.25P
(PCD Ø156)
127
108
MA-08
35
18
Ø11
Ø243
M10×1.5P
(PCDØ243)
4- M10×1.5P
(PCDØ140)
4- M10×1.5P
(PCD Ø186)
184
157
MA-10
40
18
Ø13
Ø285
M12×1.75P
(PCDØ285)
4- M10×1.5P
(PCDØ176)
4- M10×1.5P
(PCD Ø224)
270
239
Spec>

Model
B Piston
Area (cm2)
push side
B Piston
Area (cm2)
pull side
Plunger Stroke (mm) kgf
Jaw Stroke (Diameter)
Gripping Force
At Air Pressure
7kgf/cm2
(0.7Mpa)
kgf
Gripping Force
At Air Pressure
7kgf/cm2
(0.7Mpa)
(KN)
Weight (kg)
Gripping
Range
MA-06
122
117
12
5.5
4500
-44
24.8
Ø25~Ø175
MA-08
176
169
16
7.4
6400
-63
41.3
Ø30~Ø210
MA-10
254
241
19
8.8
9500
-93
65.6
Ø35~Ø250