Laser Marking Machine for 2D Barcodes
The MARK 400 marking system for wheels from NUMTEC is the ideal solution for automatically applying laser-based information on aluminum wheels. The machine provides a unique serial number for each individual wheel and can be used for standard or flow form alloy wheels from 14" to 24" in diameter. The machine consists of a laser scanner, wheel turning unit, and Numtec laser marking unit. Standard machine is configured for use with exclusive Numtec bar coding system for aluminum alloy wheels. Laser bar code system can identify wheels in a random chaotic environment. Wheels are rotated into position for marking based on bar code location. Wheel and laser unit are automatically positioned for etching laser based information in the proper location on the back side of the wheel.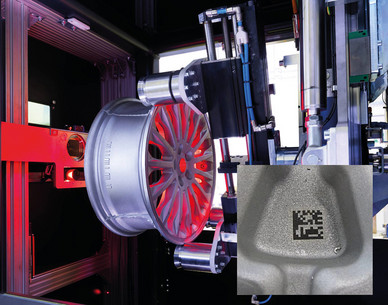 Features:
Complete cycle time of approx. 30 seconds

Total capacity of up to 3,000 wheels per day.

Capable of marking 1D codes, 2D codes, data matrix codes, text and characters.

Includes NUMTEC BCU600 scanning system.