Sprue Point Drilling Machine
The ABV 12-24 by MAKRA has been developed for drilling out the sprue points on aluminum alloy wheels for automobiles and pick-up trucks. The result is a high efficiency, high-tech drilling machine that sets new standards in terms of profitability and flexibility. In contrast to cutting or punching, drilling of the sprue point offers greater scope of design size of the sprue cross sections. Coming from the foundry, wheels are usually delivered in chaotic order. A modern wheel detection system can precede the machine so that the corresponding wheels are drilled to the right diameter. In addition, the wheel detection function also sorts the wheels for the next machining process. Chips and sprue points are discharged with an optional chip conveyor and separated automatically.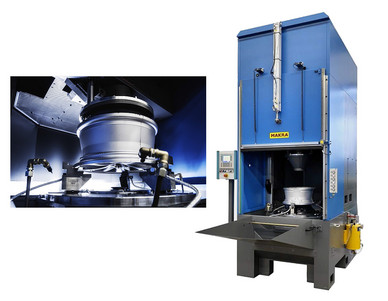 Features:
Compatible with wheels from 10" to 26" in diameter.

Throughput rate of approximately 180 wheels per hour for a single cell.

Automatic robot, inline, or manual loading.

Simultaneous loading and unloading of wheels.