LPS Series Quick Setup Wheel Chucks
LMC Lean Production Series - Patent Pending
Adjusting a cam arm from one wheel diameter to another in seconds make these quick setup wheel chucks ideal for aftermarket wheel manufacturers and OEM suppliers who handle short-run specialty wheels. Each cam arm handles four diameters within a 69 range. One: Insert wrench. Two: Crank cam arms to desired diameter. Three: Remove wrench.
LPS Series workholding products for automobiles and light trucks allow for variations in raw castings as well as for new "fashion" wheel designs where material is added to the raw casting for first operation holding.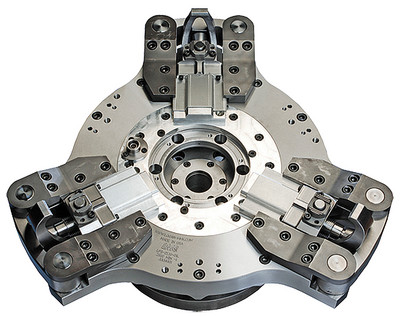 Note on tooling:
There are many tooling options, often specific to individual wheels. Please contact LMC for more information and specific tooling examples.
| | |
| --- | --- |
| Model Number | LPS-1520 |
| Capacity Wheel Diameter | 15" to 20" |
| RPM's (max) | 2800 |
| Drawbar Pull (lbs) | 7700 |
| Drawbar Stroke (in/mm) | 1.38/35 |
| Spindle Mount | A2-8 |
| Chuck Wt. (lbs) | 330 |
| A dia. (in/ mm) | 29.45-748.0 |
| B (in/ mm) | 7.32-186.0 |