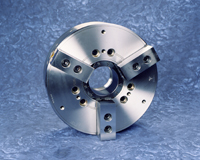 Large Size Power Chucks Available From LMC Workholding
LMC Workholding offers large size power chucks for high-speed applications and extra large thru-holes for large bore lathes. LMC offers three standard models of large chucks, with larger chuck sizes available by special order. The three standard power chuck models include the 18" with 6.5" thru-hole, 21" with 7.5" thru-hole and 24" with 8" to 10.5" thru-holes. LMC also offers the corresponding thru-hole hydraulic actuator to match the chucks. These chucks offer the quality tolerance needed for large workpiece applications.
LMC Workholding offers high quality international power chucks and an extensive line of three jaw and two jaw power chucks. LMC also provides non-thru-hole, long stroke and high-volume machining standard and special application power chucks, as well as automotive and aerospace wheel chucks.
The entire LMC Workholding line includes...
LMC power chucks, cylinders and wheel chucks; Atling Steady Rests; Face drivers, as well as live and dead centers.
Contact LMC Workholding, P.O. Box 7006, Logansport, IN 46947-7006, Telephone 574-735-0225, Fax 574-722-6559.