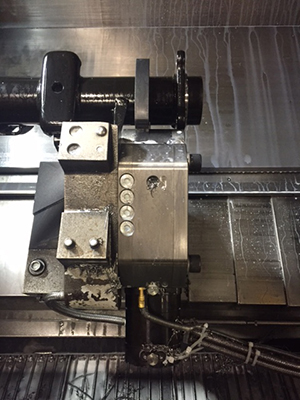 Tier One Auto Supplier Saves $105,000 by Partnering with LMC
A case study is now available from LMC Workholding featuring a local Tier One Automotive customer who was able to save $105,000 with increased production, 700 hours of machine time a year with $150/hour burden rate and a reduced cycle time of 29% with LMC.
The automotive supplier was trying to increase production of their GM axle tubes and turned to LMC and the Atling Design Engineers to develop a custom steady rest solution that allowed them to drill their parts without orienting the part multiple times. The customer averages 212,000 parts per year and reduced their cycle time by about 12 seconds per part.
LMC makes all types of workholding with a heavy emphasis currently on Rotational Workholding and Aluminum Wheel Manufacturing Systems. LMC's products include standard and special chucks and cylinders up to 7 meters in diameter, manual and hydraulic steady rest systems and integration, face drivers, centers and many other types of standard and super precision chucks, cylinders and fixtures. LMC has global reach and partnerships with additional manufacturing and service in Sweden, Germany, Austria, Italy, Taiwan and China.
Contact LMC Workholding, P.O. Box 7006, Logansport, IN 46947-7006, Telephone 574-735-0225, Fax 574-722-6559.