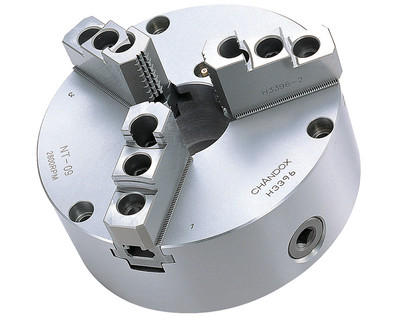 NT - 3-Jaw Steel Body Chucks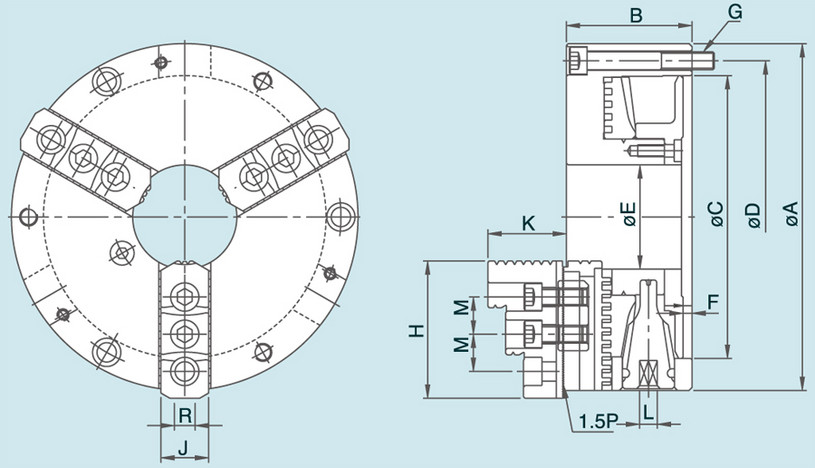 Can be used as a "Forming plate" for machining soft jaws.
Hard jaws and soft jaws can be adjusted just like on a power Chuck to increase the gripping range.
Hard jaws as well as Soft jaws are interchangeable with those of power chucks.
Chuck Body is made of steel to enhance safety operations for high speed machining.
The Chuck Handle can be operated easily and smoothly.

Unit: mm
Spec >
Model
A
B
C
D
E
F
G
H
J
K
L
NT-07
193
78
155
172
58
5
3-M10×1.5P
78
28
46
11
NT-09
233
85
190
210
70
5.5
3-M12×1.75P
92
32
52
12
NT-10
275
91
230
250
89
5.5
3-M12×1.75P
101.5
37
56
12
NT-12
310
104
260
285
105
7
3-M12×1.75P
116
47
67
14
Spec >
Model
M
R
Max Speed
rpm (min-1)
Max Gripping
Diameter
OD Clamping
Max Gripping
Diameter
ID Clamping
Weight
(kg)
NT-07
20
12
3200
Ø8~Ø235
Ø66~Ø235
13.1
NT-09
25
14
2800
Ø11~Ø280
Ø85~Ø280
21.2
NT-10
30
16
2400
Ø12~Ø330
Ø92~Ø330
30.5
NT-12
30
21
2100
Ø15~Ø370
Ø104~Ø370
46.1