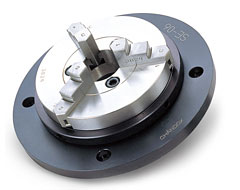 SE - Super Thin Chucks for Metrology
By the compactness comes from " Light, Thin, Short, Small" designing concept; the chucks are most fitting to hold work pieces for measuring.
Just rotate the chuck knob directly for gripping and loosening, A handle is not necessary to be used.
Chuck body is made of very durable steel.
Jaws can be reversibly used; gripping of various sizes becomes much convenient.
2" chucks can even grip up to the smallest size of 0.8mm.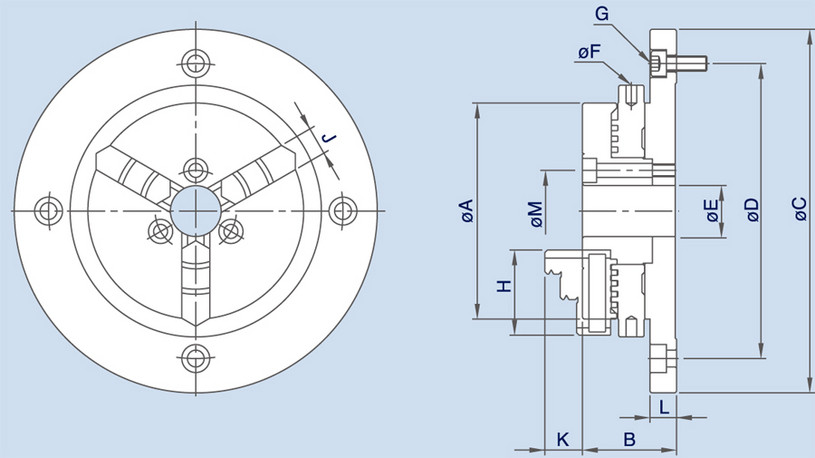 Spec >
Model
A
B
C
D
E
F
G
H
J
K
L
M
Max Gripping
Diameter
OD Clamping
Max Gripping
Diameter
ID Clamping
Weight
(kg)
SE-02
63
28
118
100
16
4
4-M5×0.8P
27
8
13
8
26
Ø0.8~Ø63
Ø23~Ø58
1.2
SE-03
85
37
143
116
20
4
4-M6×1P
35
11
15
10.5
32
Ø1~Ø81
Ø31~Ø70
2.9
SE-04
110
39
168
140
26
5
4-M6×1P
42
14
19
10
40
Ø1~Ø100
Ø36~Ø90
4.3
SE-05
130
45
202
168
32
6
4-M8×1.25P
50
16
21
11.5
49
Ø1.5~Ø116
Ø43~Ø106
6.2
SE-06
160
52
248
208
50
8
4-M10×1.5P
65
19
26
15
70
Ø1.5~Ø160
Ø52~Ø148
11.1