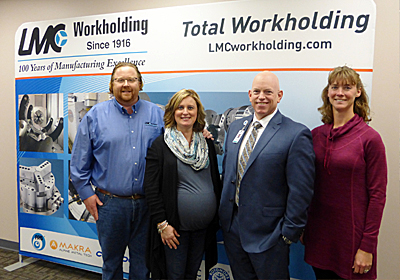 Logansport Machine Company Makes Pledge to Hospital
Logansport Machine Company, Inc. has made one of the first financial gifts to the Logansport Memorial Hospital Foundation "Building for Generations" Campaign. This recent capital campaign seeks to raise $750,000 for the Logansport Memorial Hospital Cancer Care and Obstetrics capital project.
Jay Duerr, President/CEO of Logansport Machine Company, Inc. pledged $75,000 toward the renovation of the Obstetrics Unit at Logansport Memorial Hospital. "The OB unit, physicians, and staff have a very special place in our family's heart," said Jay Duerr. "Our first son was born at LMH, and we received excellent care in a very life-threatening situation during his birth. We felt so confident in LMH after that experience that we chose to recently deliver our second son there as well."
Perry Gay, President/CEO, Logansport Memorial Hospital, shared that construction of the $7.4 million renovation will be completed in two phases. Phase one will be the completion of the Cancer Care Center located in Medical Office Building East. The Cancer Center will provide radiation therapy, hematology/oncology and infusion services in a single location. Construction will be completed by November 2017. Phase two will begin in early 2018. The existing obstetrics unit will be remodeled, with additional 5K more square feet added on to the existing space. The new unit will improve the function and cosmetics of the OB unit.
Hospital and Foundation officials are appreciative of the Duerr family's contribution to the campaign. The Lobby and Waiting Area of the obstetrics unit will be named in honor of Logansport Machine Company, according to Vicki Byrd, Vice-President of Planning and Development.
"We are very grateful to Jay Duerr, his family, and to Logansport Machine Company for their generous donation to initiate the success of this campaign," comments Perry Gay, LMH President and CEO. "Jay's thoughtful, community-minded approach to business and leadership is valuable support in our efforts to meet the changing needs of Logansport, Cass County, and other counties we serve. As a community hospital, it has been our privilege to provide high-quality healthcare to our friends and neighbors since 1925. We plan to fulfill our hospital vision for meeting our community's healthcare needs and exceeding the expectations of our patients for many years to come," says Gay.
Hospital and Foundation officials are hoping the donation from the Duerrs encourages other individuals and businesses in the community to consider making a contribution toward this project. "The 'Building for Generations' Campaign is an excellent opportunity for businesses and individuals in the community to show support of our local hospital," comments Leeann Murray, chair of the Logansport Memorial Hospital Foundation Board. "There are naming opportunities still available, and other various levels of giving will also be recognized during the fundraising process," she says.
Vicki Byrd, Vice President of Planning and Development may be contacted for more information on the "Building for Generations" Campaign and the fundraising efforts of the Logansport Memorial Hospital Foundation. She can be reached by phone at (574) 753-1595, or you can visit logansportmemorial.org/future to learn more about the campaign.
LMC makes all types of workholding with a heavy emphasis currently on Rotational Workholding and Aluminum Wheel Manufacturing Systems. LMC's products include standard and special chucks and cylinders up to 7 meters in diameter, manual and hydraulic steady rest systems and integration, face drivers, centers and many other types of standard and super precision chucks, cylinders and fixtures. LMC has global reach and partnerships with additional manufacturing and service in Sweden, Germany, Austria, Italy, Taiwan and China.
Contact LMC Workholding, P.O. Box 7006, Logansport, IN 46947-7006, Telephone 574-735-0225, Fax 574-722-6559.