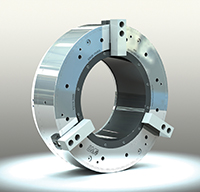 New Energy Series Large Bore Air Chucks from LMC
LMC Workholding introduces new Energy Series Large Bore Air Chucks, featuring a built-in air cylinder and extra-large thru-hole. The full spindle bore of the lathe can be utilized for thru-hole work and long jaw travels provides more clearance for through feeding pipe. These large pneumatic chucks are available in standard and extended jaw stroke models.
Other features include self-contained construction that allows these chucks to be installed on the front and back of the lathe spindle for producing high quality threads. Extended jaw stroke for processing pipe with upset ends and extended jaw travel features both a rapid and a clamping stroke. External or internal clamping of the workpiece is also possible.
Founded in 1916, LMC Workholding offers engineering, manufacturing and a full range of products including high quality chucks and cylinders along with special workholding devices, including aluminum wheel chucks, high volume machining power chucks and fixtures, standard and special hydraulic steady rests, special application and large cast type manual steady rests, and Chandox brand chucks and cylinders.
Contact LMC Workholding, P.O. Box 7006, Logansport, IN 46947-7006, Telephone 574-735-0225, Fax 574-722-6559.