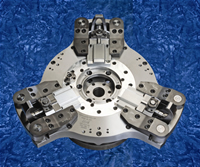 Quick Setup Wheel Chucks from LMC Workholding
LMC Workholding's Lean Production Series (Patent Pending) Quick Setup Wheel Chucks are ideal for aftermarket wheel manufacturers and OEM suppliers for handling short-run specialty wheels. The Lean Production Series (LPS) can adjust from 15" to 20" wheels in 5 seconds without changing any tooling.
The LPS Series, workholding products for passenger cars and light trucks, allows for variations in raw castings as well as for new "fashion" wheel designs where material is added to the raw casting for the first operation. The LPS-1520 features a wheel diameter capacity of 15" to 20" and a maximum 2800 RPM. Other tooling options are available and are specific to individual wheels.
LMC Workholding chucks accommodate wheel diameters from 11" to 24.5" and turn wheels for automobiles, trucks, buses and motorcycles more efficiently than other clamping methods.
Contact LMC Workholding, P.O. Box 7006, Logansport, IN 46947-7006, Telephone 574-735-0225, Fax 574-722-6559.