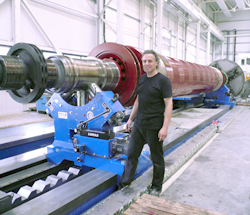 Richter Sliding Steady Rest Installed in German Power Plant
LMC Workholding announces Richter's recent installation of a sliding steady rest in a power plant in eastern Germany.'The Type 8.6 Richter Sliding Steady Rest for 100 ton power generator rotors will be used especially for overhauling the generators.'The steady rest is also suitable for steam and gas turbines to build or overhaul.'LMC and Richter specialize in manufacturing specialty and standard steady rests of cast iron up to 2 meters in diameter for holding weights up to 440,000 lbs. for various applications, including turning and positioning, for any type of workpiece support.
Generator overhauls are done in Germany every 6 to 7 years, causing lost production time and downtime costs with transporting the generators for the overhaul.'This power plant has 16 generators and purchased a Richter steady rest in order to increase production efficiency and reduce downtime.
LMC Workholding engineers and manufactures high quality chucks and standard and special workholding equipment, including international style power chucks and cylinders, wheel chucks, high volume machining power chucks, Atling hydraulic steady rests, Richter manual steady rests, Stiefelmayer specialty clamping tools, Chandox brand chucks and cylinders and T de G large chucks.
Contact LMC Workholding, P.O. Box 7006, Logansport, IN 46947-7006, Telephone 574-735-0225, Fax 574-722-6559.