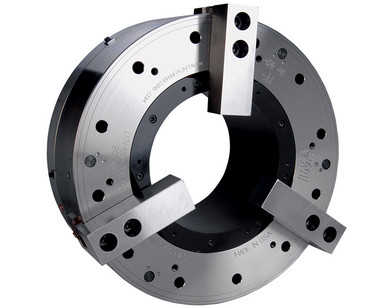 Energy Series Large Bore Air Chucks
Full spindle bore of the lathe can be utilized for thru-hole work.
Machining the ends of long pipes is made easy. Long jaw travel provides more clearance for through feeding pipe.
Self-contained construction allows chucks to be installed on the front and back of the lathe spindle for producing the highest quality threads.
Processing pipe with upset ends is made possible with extended jaw stroke chucks. Extended jaw travel features both a rapid and a clamping stroke.
External or internal clamping of the workpiece is possible.
Available in standard and extended stroke versions.
LMC Energy Series Chucks are made in the USA in Logansport, Indiana.
| | | | | | | | |
| --- | --- | --- | --- | --- | --- | --- | --- |
| | | 425/140 | 470/191 | 570/230 | 680/332 | 800/410 | 1000/570 |
| THRU-HOLE | mm | 140 | 191 | 230 | 332 | 410 | 570 |
| THRU-HOLE | inch | 5.51 | 7.52 | 9.06 | 13.07 | 16.14 | 22.44 |
| STROKE/JAW | mm | 7 | 7 | 8.5 | 12.7 | 12 | 12 |
| MIN. PRESSURE | bar | 2 | 2 | 2 | 2 | 2 | 3 |
| MAX. PRESSURE | bar | 8 | 10 | 8 | 8 | 10 | 8 |
| PISTON AREA | cm² | 710 | 565 | 940 | 1119 | 2064 | 1075 |
| GRIPPING FORCE @ 6 bar | KN | 140 | 115 | 190 | 150 | 330 | 180 |
| MAX. SPEED | rpm | 1700 | 1700 | 1300 | 1000 | 750 | 450 |
| AIR CONSUMPTION | ℓ | 20 | 16 | 32 | 6.2 | 108 | 85 |
| WEIGHT | kg | 150 | 150 | 200 | 468 | 650 | 950 |
| MOMENT OF INERTIA | kg*m² | 3.5 | 5.66 | 8 | 30.4 | 71.25 | 157.5 |
| A) BODY DIAMETER | mm | 425 | 470 | 570 | 680 | 800 | 1000 |
| B) BORE | mm | 140 | 191 | 230 | 330 | 410 | 570 |
| C) DISTRIBUTOR RING DIA. | mm | 470 | 470 | 570 | 680 | 850 | 1000 |
| H1) OVERALL LENGTH | mm | 223 | 223 | 223 | 277 | 303 | 313 |
| | | | | | | |
| --- | --- | --- | --- | --- | --- | --- |
| | | 470/191 | 570/230 | 680/332 | 850/410 | 1000/570 |
| THRU-HOLE | mm | 191 | 230 | 332 | 410 | 570 |
| THRU-HOLE | inch | 7.52 | 9.06 | 13.07 | 16.14 | 22.44 |
| STROKE/JAW TOTAL | mm | 20 | 25.4 | 25.4 | 25.4 | 25.4 |
| STROKE/JAW RAPID | mm | 13 | 16.9 | 16.9 | 14.9 | 14.9 |
| STROKE/JAW CLAMP | mm | 7 | 8.5 | 8.5 | 10.5 | 10.5 |
| MIN. PRESSURE | bar | 2 | 2 | 2 | 3 | 3 |
| MAX. PRESSURE | bar | 10 | 8 | 8 | 8 | 8 |
| PISTON AREA | cm² | 565 | 895 | 1119 | 1130 | 1075 |
| GRIPPING FORCE @ 6 bar | KN | 115 | 170 | 150 | 185 | 180 |
| MAX. SPEED | rpm | 1300 | 1200 | 1000 | 750 | 450 |
| AIR CONSUMPTION | ℓ | 22 | 45 | 6.2 | 67 | 65 |
| WEIGHT | kg | 190 | 270 | 468 | 825 | 955 |
| MOMENT OF INERTIA | kg*m² | 9.83 | 12.75 | 32.4 | 91.85 | 158.2 |
| A) BODY DIAMETER | mm | 470 | 570 | 680 | 850 | 1000 |
| B) BORE | mm | 191 | 230 | 330 | 410 | 570 |
| C) DISTRIBUTOR RING DIA. | mm | 467 | 570 | 680 | 850 | 925 |
| H1) OVERALL LENGTH | mm | 238 | 280 | 277 | 320 | 330 |