Diamond Cut Measurement Machine
The NUMTEC MD 200 measuring machine precisely measures the front faces of wheels for the diamond cut. A special laser unit measures the wheel from above generating correction data for the following diamond cut turning process. For special wheel designs, more than two measurement cycles can be defined.
The wheel height is measured at the outer flange and again near the hub bore region. This information is communicated to the diamond cut machine to allow a correction CNC program to be selected, if required. One MD200 can feed multiple work stations.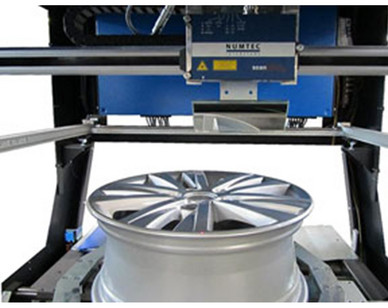 Compatible with wheels from 14" to 24" in diameter and up to 45 kg. Wheel width 3.5" to 12".

Cycle time of one complete measurement is approx. 25 seconds.

Optional light barrier for manual handling.

Fully assembled and tested measurement machine.