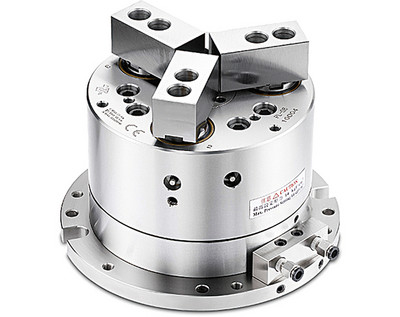 PLVE - Pull Back Power Chuck Fixtures
Pull Back Power Chuck Fixture is ideal for machining application on working table, workpiece can be clamped firmly not lift up; it is suitable for heavy cutting as well as the casting and forging machining.
Rust-proof for Pneumatic Cylinder: Inside wall of cylinder being rustproof treated; cylinder can work under wet or high moisture circumstances without rusty or seized trouble.
Dusts-proof and Waterproof: Dust-proof and Waterproof structure prevents work-chips and coolant water from entering into inside of chuck cylinder to maintain its accuracy and lead to longer service life.
Heavy Duty Clamping Design: Collocating hydraulic system to do heavy duty clamping, the chuck structure is steady and won't deform.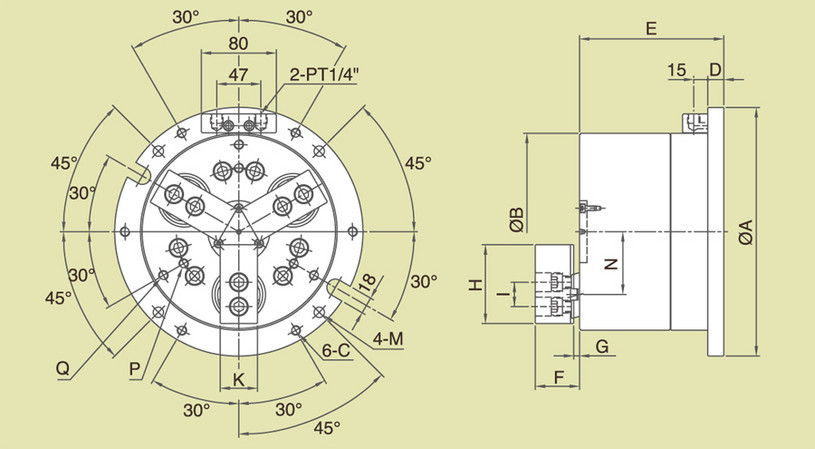 Unit: mm
Spec >
Model
A
B
C
D
E
F
max
F
min
G
max
G
min
H
I
K
M
PLVE-06
224
169
M10x1.5P(PCDØ202)
17
140
45.65
35.65
14.65
4.65
70
-
35
Ø11(PCD 202)
PLVE-08
265
210
M10x1.5P(PCDØ243)
17
154
57.15
47.15
16.15
6.15
84
26
40
Ø11(PCD 243)
PLVE-10
315
254
M12x1.75P(PCDØ285)
20
185
67.6
51.6
21.6
5.6
100
32
50
Ø13(PCD 285)
Spec >
Model
N
max
N
min
P
Q
Piston Area
(cm2)
Plunger Stroke
(mm)
Jaw Stroke
Diameter (mm)
PLVE-06
56.69
54.01
3-M6x1P
(PCDØ80)
3-M6x1P
(PCDØ120)
91
10
5.3
PLVE-08
69.56
66.88
3-M10x1.5P
(PCDØ136)
3-M10x1.5P
(PCDØ186)
160
10
5.3
PLVE-10
87.44
81.61
3-M12x1.75P
(PCDØ170)
3-M12x1.75P
(PCDØ230)
215
16
11.6
Spec >
Model
Max
Gripping Force
kgf (KN)
Max Pressure
Setting
kgf/cm2 (Mpa)
Gripping Force
at Air Pressure
7kgf/cm2 (0.7Mpa)
kgt (KN)
Gripping
Range
PLVE-06
2950 (29)
16 (1.57)
1270 (12.5)
Ø35~Ø160
PLVE-08
4890 (48)
15 (1.47)
2240 (22)
Ø40~Ø210
PLVE-10
4990 (49)
16 (1.57)
2140 (21)
Ø40~Ø210