RT - Rotary Air Chuck Fixtures
It's ideal for dividing or cutting work pieces by mounting the chuck on indexing table or rotary table. The distinctive feature is that the chuck rotates with the spindle of indexing table or rotary table.
Rustproof treated cylinder: The cylinder won't get rusty and seized even in wet or high moisture working environment.
Dust and water proof cover: Prevent metal chips or coolant from entering inside of chuck cylinder to maintain its accuracy and lead to longer service life.
Integral pneumatic cylinder: Connect chuck and built-in cylinder to each other directly ; thus enables operation stability. Moreover, it is more convenient for installation and operation since the use of draw tube and draw bar are no longer necessary.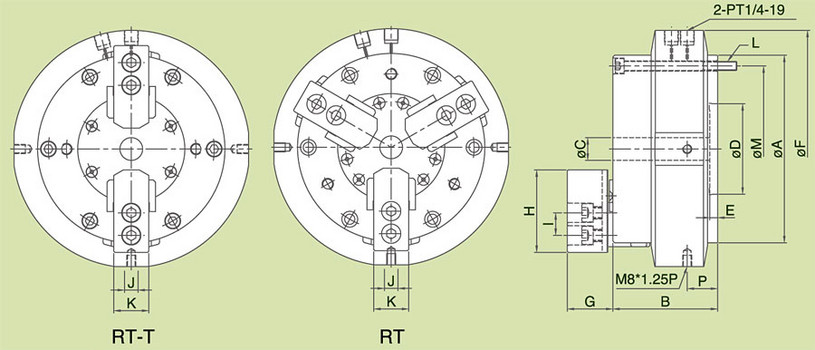 Unit: mm
Spec >
Model
A
B
C
D
E
F
G
H
I
J
K
L
RT-05
140
85
16
60
6
180
33
62
14
10
25
6-M8×1.25P
RT-06
170
93
20
80
7
210
40
73
20
12
31
6-M8×1.25P
RT-08
215
112
30
110
8
250
42
95
25
14
35
6-M10×1.5P
RT-10
255
120
43
140
8
290
46
110
30
16
40
6-M10×1.5P
RT-05T
140
85
16
60
6
180
33
62
14
10
25
6-M8×1.25P
RT-06T
170
93
20
80
7
210
40
73
20
12
31
6-M8×1.25P
Spec >
Model
M
P
Thru-Hole
(Diameter)
mm
Piston
Area
(cm2)
Plunger
Stroke
(mm)
Jaw Stroke
(Diameter)
mm
RT-05
Ø118
27
16
74
10
4.6
RT-06
Ø147
27
20
120
13
5.5
RT-08
Ø185
28
30
190
16
6.8
RT-10
Ø220
30.5
43
280
19
8
RT-05T
Ø118
27
16
74
10
4.6
RT-06T
Ø147
27
20
120
13
5.5
Spec >
Model
Max Speed
rpm
(min-1)
Max Pressure
kgf/cm2
(Mpa)
Gripping Force
At Air Pressure
7kgf/cm2
(0.7Mpa) kgf
Gripping Force
At Air Pressure
7kgf/cm2
(0.7Mpa) (KN)
Gripping
Range
Weight
(kg)
RT-05
51
7 (0.7)
1340
-13.1
Ø4-Ø136
9.3
RT-06
41
7 (0.7)
2330
-22.8
Ø25-Ø166
15.5
RT-08
33
7 (0.7)
3730
-36.5
Ø33-Ø215
28.5
RT-10
26
7 (0.7)
5480
-53.7
Ø43-Ø255
42.3
RT-05T
51
7 (0.7)
1340
-13.1
Ø4-Ø136
9
RT-06T
41
7 (0.7)
2330
-22.8
Ø25-Ø166
15